The Reasons Behind #Microsoft's #Layoff Decision in 2023
The year 2023 marked a significant shift for Microsoft, one of the world's leading tech giants. A series of layoffs were announced, surprising many in the industry. The question on everyone's lips was - why? The reason behind Microsoft's layoff decision in 2023 was attributed primarily to strategic business decisions.
Let's delve into what these decisions encompassed. Microsoft, like many other tech companies, found itself needing to adjust and adapt. Organizational and workforce adjustments were stated as necessary steps for managing their business. The focus was on prioritizing and investing in strategic growth areas to better support their customers and partners.
The impact varied across different roles within the company. Sales teams, support roles, education, and Microsoft's Modern Work teams were among the most affected. However, it's important to note that Microsoft was not alone in this trend. Many tech firms were scaling back, citing the need to save money in the face of macroeconomic challenges and correcting over-hiring during the pandemic period.
While unsettling for those affected, these layoffs were seen as a strategic move by Microsoft to streamline its operations and focus on future growth. The tech industry is ever-evolving, and companies must adapt to survive and thrive. Microsoft's decisions in 2023 were part of this larger industry trend.
Microsoft's Layoff Decision in 2023
In 2023, Microsoft made the difficult decision to implement a significant layoff plan. This strategic move was driven by a combination of various factors that had a profound impact on the company's operations and future growth prospects. In this article section, we will delve into the key reasons behind Microsoft's layoff decision and explore how each factor played a role in shaping the company's course of action.
Economic Factors
The prevailing economic conditions undoubtedly influenced Microsoft's decision to initiate a layoff plan. During this period, the global economy experienced a downturn, marked by reduced consumer spending and a slowdown in business investments. These economic headwinds likely impacted Microsoft's revenue streams, prompting the need for cost-cutting measures.
Competitive Landscape
The ever-evolving technology sector is characterized by intense competition, and Microsoft is no exception. The company faced stiff competition from competitors such as Apple, Google, and Amazon, who constantly challenged Microsoft's market dominance. To maintain its competitive edge and drive innovation, Microsoft had to realign its workforce and resources strategically.
Strategic Restructuring
Microsoft's layoff decision was closely tied to its broader strategic restructuring efforts. The company recognized the need to streamline its operations and refocus on core business areas that offered the greatest growth potential. By reallocating resources and aligning its workforce with strategic objectives, Microsoft aimed to enhance agility and efficiency in its operations.
Technological Advancements
The rapid pace of technological advancements also played a pivotal role in Microsoft's decision to downsize its workforce. The emergence of new technologies and industry trends forced the company to adapt and align its workforce with the changing landscape. By restructuring its workforce, Microsoft aimed to position itself at the forefront of emerging technologies and maintain its relevance in the market.
Impact of COVID-19
The unprecedented global pandemic, COVID-19, had far-reaching consequences for businesses worldwide, and Microsoft was no exception. The pandemic disrupted supply chains, reduced consumer spending, and created economic uncertainties. As a result, Microsoft had to navigate through these challenging times by making tough decisions, including layoffs, to ensure its long-term sustainability.
Employee Performance and Efficiency
As part of its strategic evaluation, Microsoft assessed the performance and efficiency of its workforce. The company may have identified areas where redundancies existed or where certain roles were no longer aligned with its future growth plans. By optimizing its workforce, Microsoft aimed to enhance productivity and create a leaner, more effective organization.
Shift in Consumer Preferences
Changing consumer preferences and demands can significantly impact a company's operations. Microsoft recognized the evolving needs of consumers and proactively adjusted its workforce to align with these changing preferences. By focusing on areas that best catered to consumer demands, Microsoft aimed to enhance customer satisfaction and maintain its competitive position.
Financial Considerations
Financial considerations undoubtedly played a crucial role in Microsoft's layoff decision. By streamlining its operations and reducing overhead costs associated with a large workforce, Microsoft aimed to improve its financial performance and increase shareholder value. These considerations were vital in ensuring the company's long-term sustainability and growth.
CEO's Vision and Leadership
Microsoft's CEO provided the vision and leadership necessary to guide the company through this challenging period. The CEO's strategic vision may have necessitated the layoff decision as part of a broader plan to position Microsoft for future growth and expansion. Their leadership in implementing these changes was crucial to driving the company forward.
Future Growth and Expansion Plans
Lastly, Microsoft's layoff decision was driven by its future growth and expansion plans. By realigning its workforce and resources, Microsoft aimed to focus on areas that offered the greatest potential for growth and innovation. This strategic move allowed the company to position itself for long-term success in a rapidly evolving technology landscape.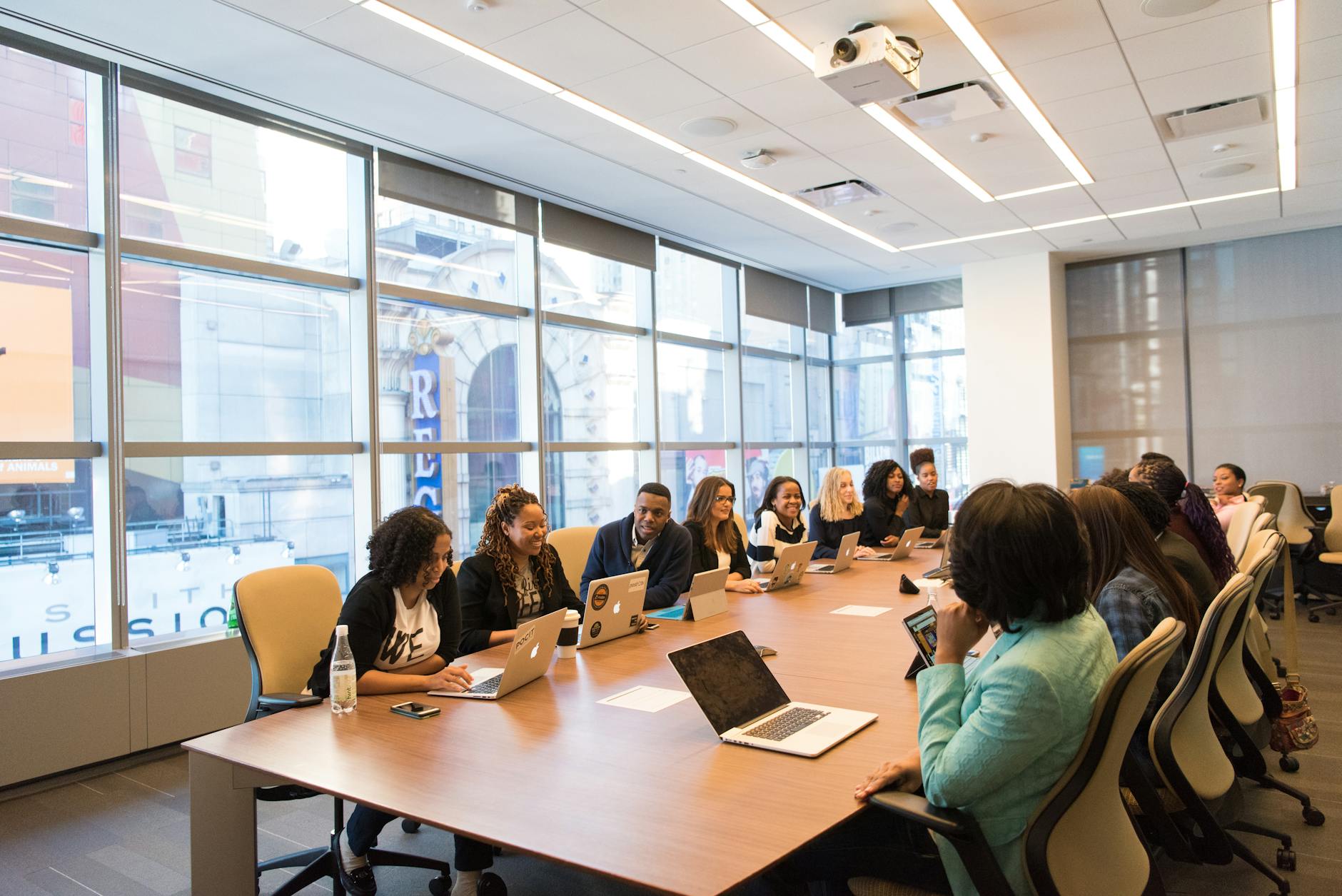 Group of People on a Conference Room (Photo by Christina Morillo)
In conclusion, Microsoft's layoff decision in 2023 was influenced by a combination of economic factors, the competitive landscape, strategic restructuring efforts, technological advancements, the impact of COVID-19, employee performance and efficiency, shifts in consumer preferences, financial considerations, the CEO's vision and leadership, and future growth and expansion plans. These factors collectively shaped Microsoft's course of action, enabling the company to adapt and thrive in the face of challenges while positioning itself for future success.
Related article: Microsoft's Strategies to Stay Ahead in the Competitive Tech Market
Conclusion
The decision by Microsoft to lay off 10,000 employees in 2023 has raised many questions and speculation about the reasons behind it. While the company's official statement refers to organizational and workforce adjustments as a necessary part of managing the business, it fails to provide specific details about the number of affected workers or the possibility of future layoffs.
Interestingly, despite the layoffs, Microsoft's financial health remains strong, with a soaring stock price and impressive fiscal performance. Investors eagerly await the company's fourth-quarter financial results to gain further insights into this apparent contradiction.
The layoffs have undoubtedly caused turmoil within the technology sector, known for its resilience and steady growth. As Microsoft continues to prioritize strategic growth areas and invest in AI, it remains to be seen how these decisions will shape the company's future and its impact on the workforce.
July 2023 presents a period of paradoxical occurrences at Microsoft, with layoffs and financial success coexisting. As the company navigates these challenges, it will be crucial to monitor its actions and strategies moving forward to understand the true reasons behind the layoff decision and its implications for the tech industry as a whole.