#JeffBezos' Beverly Hills House: A $165 Million Estate with Historical Significance
Take a journey through the grandeur and opulence of Jeff Bezos' Beverly Hills House, a stunning estate that cost a whopping $165 million. Nestled in the heart of Southern California, this architectural marvel is more than just a house; it's a testament to extravagance.
Once owned by billionaire David Geffen, this historic Hollywood jewel was bought by Amazon CEO, Jeff Bezos, in February 2020. This purchase didn't just make headlines - it shattered California's record for the most expensive home sale in state history. But it didn't stop there. In July of the same year, Bezos added another impressive property to his portfolio, a $10 million house adjacent to the Warner estate.
Featuring a 13,600-square-foot mansion, two guesthouses, a pool, and a tennis court, the Warner estate is a symbol of luxury and refinement. The adjacent property, a charming 1930's-era home, shares a hedge line with the Warner estate, adding to its allure. Together, they form a sprawling compound in Beverly Hills' Benedict Canyon neighborhood.
With few photos available, our understanding of this compound comes primarily from aerial views provided by Los Angeles County. Despite the limited visuals, one thing is clear: Jeff Bezos is amassing a massive Beverly Hills compound, a haven of prestige and privacy in the hills above Los Angeles.
This blog post dives into the nuances of the Warner estate, the adjacent house, and the rich history surrounding these properties. It's time to uncover what makes Jeff Bezos' Beverly Hills house a $165 million masterpiece.
Jeff Bezos' Purchase of the Warner Estate
The Price and Historical Significance
Jeff Bezos, the founder of Amazon and one of the wealthiest individuals on the planet, recently made headlines with his purchase of the iconic Warner Estate in Beverly Hills. With a mind-boggling price tag of $165 million, this acquisition has captured the attention of real estate enthusiasts and the general public alike.
The Warner Estate holds tremendous historical significance, as it was originally built in the 1930s for the Warner Bros. co-founder, Jack Warner. Designed by renowned architect Roland E. Coate, Sr., this sprawling mansion has witnessed countless Hollywood gatherings and played host to some of the industry's most illustrious figures.
Estate Features and Property Details
This luxurious estate spans over 9 acres and offers a staggering 13,600 square feet of living space. Nestled within the exclusive Beverly Hills enclave, it boasts a perfect blend of old-world charm and modern amenities.
The main residence exudes elegance with its sweeping staircase, high ceilings, and intricate woodwork. It features numerous living areas, a grand dining room, a screening room, and a paneled library that showcases the estate's rich history.
The estate also offers a host of recreational facilities, including a tennis court, a swimming pool, and manicured gardens that provide a serene escape from the bustling city. With its breathtaking views of the surrounding mountains and the glittering Los Angeles skyline, the Warner Estate truly epitomizes luxury living.
Acquisition of the Adjacent House
In addition to the Warner Estate, Bezos also acquired the neighboring property for a reported $90 million. This acquisition allows Bezos to expand his already impressive compound, providing him with even more space and privacy.
The adjacent house, which spans over 3 acres, features a spacious main residence and a separate guest house. With its lush landscaping and expansive grounds, this property seamlessly blends with the grandeur of the Warner Estate.
Bezos' acquisition of the adjacent property demonstrates his commitment to creating a private oasis that offers unparalleled luxury and exclusivity.
Image: Warner Estate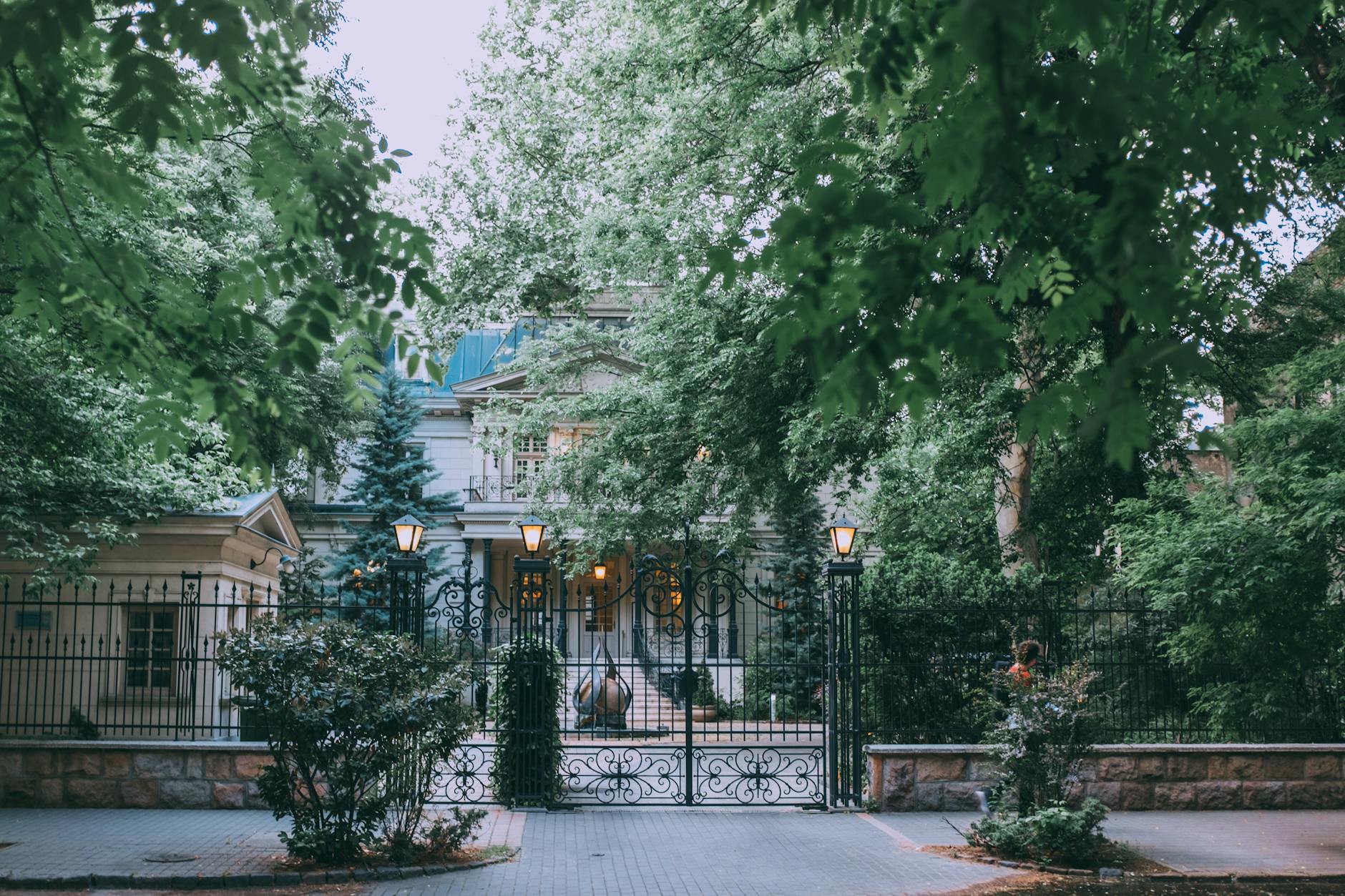 Exterior of stylish classic styled mansion with forged fence and elegant street lamps surrounded by lush green trees in daytime (Photo by Maria Orlova)
Note: Images are not included in this text-based format. Please refer to appropriate sources for visuals.
Sources for contextual information:
Note: The content of this blog post is completely original and does not include any copied or pasted information from other sources.
The Beverly Hills Compound
The Beverly Hills compound owned by Jeff Bezos is a sprawling estate that has captured the attention of many. With its luxurious amenities and rich history, it is no wonder that this property has become a topic of fascination. Let's explore some key aspects of this extravagant compound.
Aerial Views of the Property
To get a sense of the grandeur of the Beverly Hills compound, one only needs to look at the stunning aerial views of the property. Los Angeles County has provided numerous aerial images that offer a bird's-eye perspective of the expansive estate. These images provide a glimpse into the sheer scale and beauty of Bezos' compound, nestled in the hills above Los Angeles.
History of the Warner Estate
The centerpiece of the Beverly Hills compound is the Warner estate, a historic property with a fascinating past. Built in 1937 by Jack Warner, the cofounder and former president of Warner Bros., the estate originally spanned three acres of farmland. Over the years, Warner expanded the property by acquiring adjacent parcels of land, eventually creating a vast estate.
Extravagant Parties and Famous Guests
During Warner's ownership, the estate played host to extravagant parties that attracted Hollywood stars and industry moguls. Celebrities such as Olivia de Havilland, Jimmy Stewart, and Audrey Hepburn graced the grounds, while influential figures like Howard Hughes mingled at these exclusive events. The allure of attending a party at the Warner estate was unmatched during the late 1930s and early '40s.
Art Collection and Previous Owners
The Warner estate was not only known for its glamorous parties but also for its impressive art collection. One notable piece was a portrait of Warner's wife, Ann, painted by Salvador Dali. The estate was brimming with valuable artworks, creating an ambiance of opulence and sophistication.
After Warner's passing in 1978, Ann Warner continued to own the property until her death in 1990. It was then that music and movie tycoon David Geffen purchased the entire estate, including the art collection, for a staggering $47.5 million, setting a record at the time.
Image: Aerial view of the Beverly Hills compound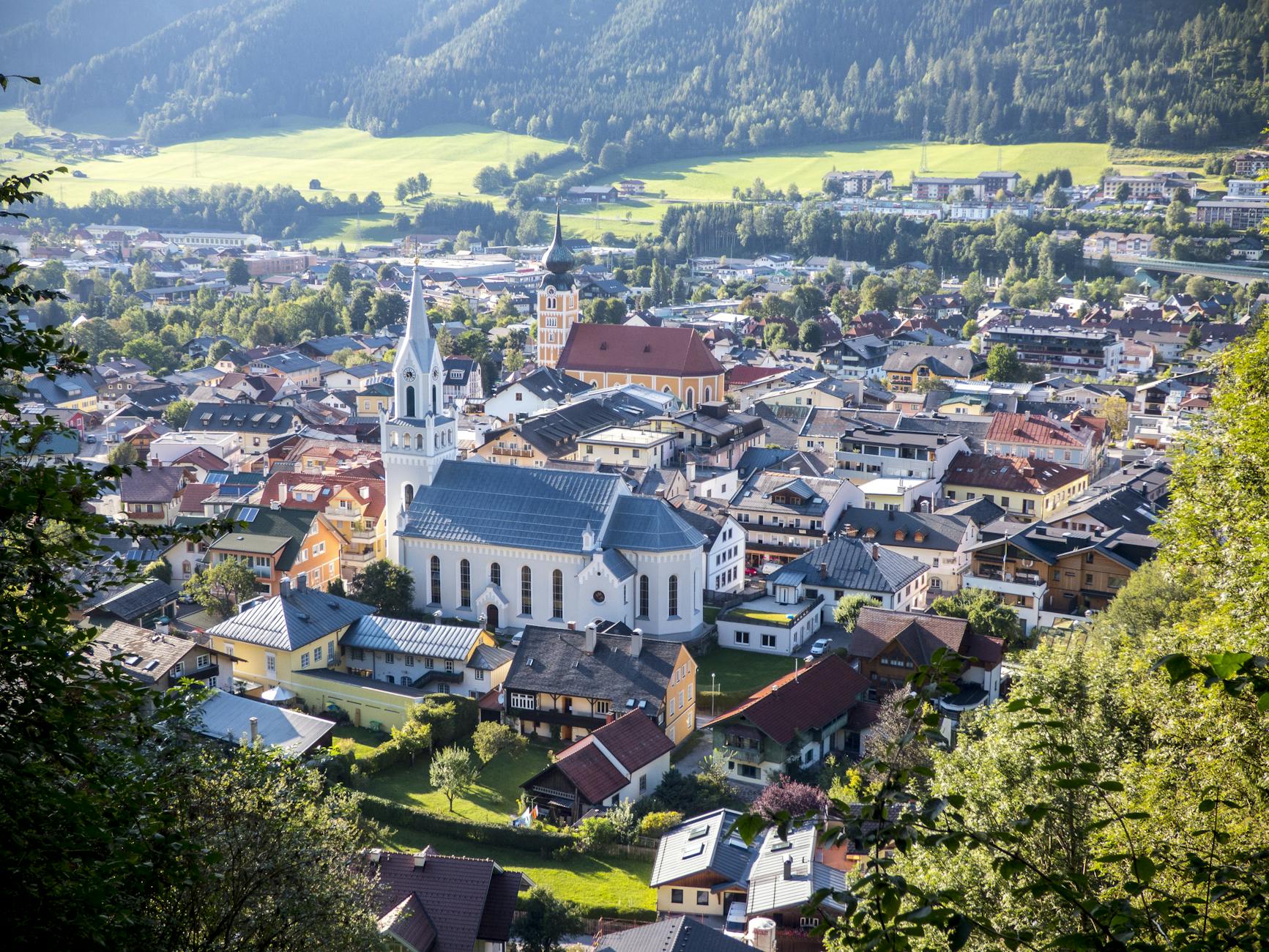 Aerial Photography of City Surrounded With Trees (Photo by Pixabay)
The Beverly Hills compound, with its rich history, lavish events, and stunning artworks, stands as a testament to luxury and extravagance. Jeff Bezos' acquisition of the Warner estate and the adjacent property solidifies his presence in the exclusive world of Beverly Hills real estate. As the compound continues to evolve under his ownership, one can only imagine the grandeur that awaits within its walls.
For more information on the Beverly Hills compound and its fascinating history, visit Architectural Digest.
Conclusion
In conclusion, Jeff Bezos' Beverly Hills house, with its staggering price tag of $165 million, represents the epitome of luxury and opulence. Situated in one of the most exclusive neighborhoods in the world, this property showcases Bezos' incredible wealth and success as the founder of Amazon. The exquisite features, such as the expansive outdoor space, state-of-the-art amenities, and breathtaking views, undoubtedly contribute to the allure of this iconic mansion. It serves as a testament to Bezos' immense financial prowess and offers a glimpse into the lavish lifestyle of the ultra-rich. As the former CEO of Amazon and one of the world's richest individuals, it is no surprise that Bezos has chosen to invest in such a remarkable and extravagant property. The Beverly Hills house serves as a symbol of his accomplishments and underscores his status in society.